We welcome your child and family into our practice and we will strive to make your child's dental experience positive and pleasant. We are committed to providing your child with the highest standards of dental care. In order to achieve these goals, and focus on caring for your child, we need your assistance and understanding of our financial policy.
Payment for professional services is due at the time dental treatment is provided. Every effort will be made to provide a treatment plan which fits your timetable and budget, and gives your child the best possible care.
We accept cash, check, Visa, MasterCard, Discover and CareCredit.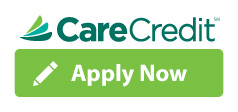 Dental Insurance
After we have received accurate insurance information by completing the online registration, we will do our best to verify your insurance coverage and benefits prior to the appointment. Effective January 31, 2017, we are not accepting any Missouri Healthnet plans. If you are unable to send us your information prior to your appointment then please arrive 30 minutes early. If we are not able to verify benefits you will be responsible for payment. When we have received all of your insurance information we will file a claim as a courtesy to you; we will file primary insurance only, you will be responsible for filing any secondary insurance. Please be familiar with your insurance benefits, as we will be collecting the estimated amount insurance is not expected to pay from you. PLEASE UNDERSTAND we do not hold the contract with your insurance company; you do. Insurance companies do, on occasion, change their benefit structure; it's up to you to familiarize yourself with your specific benefits.
We will provide you with a written estimate of the cost of treatment based on the information provided by your insurance company.
You are responsible for any balance on your account after 45 days, whether insurance has paid or not.
What if your child needs treatment?
If you have dental insurance, we will do our best to verify your policy and benefits. However, insurance companies do not always release specific information regarding coverage. Please understand that all insurance policies are different and contain various provisions and limitations. At your child's evaluation appointment, we will provide a written estimate of your out of pocket expense for services that exceed your estimated insurance coverage. We will outline your estimated portion due for each treatment appointment. Please remember that insurance companies will not release the exact amount they will pay for a procedure until the treatment is completed and the claim is submitted. They will only state the percentage of their fee schedule that they will cover.
Account Balances
If there is balance remaining after insurance has paid their portion we ask that you pay your remaining portion within 30 days of the statement date. If you have not paid your balance within 30 days of the statement date, we reserve the right to charge a re-billing of 5% of the unpaid balance that will be added to your account each month until paid. The responsible party on the account will be the person who brings the child to the initial visit. We will collect from this person regardless of a divorce decree. The responsible party will be responsible for all collection agency fees and/or attorney fees associated with collecting past due balances.
Appointment Policy
In order to provide quality care for all of our patients we have established appointment guidelines to be fair to everyone. We kindly request a 48 hour notice to change or cancel your reserved appointment time. The office reserves the right to no longer schedule appointment times if 3 appointments are missed. Missed appointments for new patients will not be rescheduled.
Facts you should know about Dental Insurance
In an effort to help you understand your insurance policy and maximize your insurance benefits, we would like to share some facts about dental insurance with you.
FACT #1 - Dental insurance is a contract between you, your employer and the insurance company. We are not a party to that contract.
FACT #2 - Dental insurance is NOT meant to cover all fees. It is meant to be an aid to your investment in your child's dental healthcare. Many routine dental services are not covered by dental insurance.
FACT #3 - NO INSURANCE PAYS 100% OF ALL PROCEDURES EVEN IF YOU ARE IN NETWORK. Dental insurance is meant to be a supplement in receiving dental care. Many patients think that their insurance pays 90%-100% of all dental fees. This is not true! Most plans only pay between 50%-80% of the average total fee. Some pay more, some pay less. The percentage paid is usually determined by how much you or your employer has paid for coverage or the type of contract your employer has set up with the insurance company.
FACT #4 - Usual, Customary or Reasonable Fees, UCR, a term used by your insurance carrier, is an arbitrary amount which the insurance company chooses to pay for each procedure. It is not based on the average charge of practicing specialist in the area; it is merely the "allowable" amount they will reimburse so they can make a net 20%-30% profit. Our fees are within range of other pediatric dental offices in the area.
FACT #5 - Insurance companies will not release the exact amount they will pay for a procedure until the treatment is completed and the claim is submitted. They will only state the percentage of their fee schedule that they will cover.
We will make every effort to assure you receive maximum benefits. We will file your insurance at no charge. In order to provide this service, we ask that you please keep us informed of any insurance changes such as policy name, insurance company address, or a change of employment before each appointment.
Please do not hesitate to ask questions about our financial policy. We want you to be comfortable with your investment you have made in your child's oral health. If you have any questions regarding your insurance, we ask that you contact your company regarding the specifics and details of your plan.